May 1, 2013 By BDN Administrator
Today is the first day of our Blogging Challenge! Join us and win some awesome prizes while improving your blog!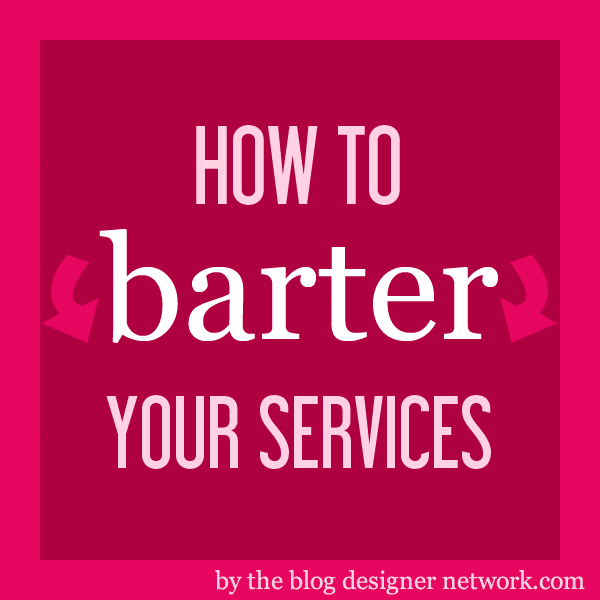 As bloggers and designers, we will inevitably run into clients who want to provide something other than money in exchange for our services. From blog posts reviewing our services, to products sent to our homes – the temptation is inevitable considering the valuable service designers are able to provide. However, there are also times when our potential clients are able to provide us with something more valuable than money. Some designers have staunch policies against bartering, and others find themselves in too deep with projects they're not getting paid for. Before accepting projects in exchange for anything other than money, consider these guidelines first. Likewise, if you plan to ask someone to barter with you, consider these do's and don'ts.
Do:
Seek the things you want. Some services and products are far more valuable to you (and/or your business) than they are to others. Whether the items you're bartering for are worth the same to another in the same field as you is irrelevant. Think of it this way: Would you spend the money on that product or service anyway? Don't be afraid to pitch to people and businesses that are of personal and professional interest to YOU.

Pre-qualify. Do your research, and make sure the person or company you will be dealing with is reputable. Depending on what you're accepting instead of money, you may want to type their name into a search engine, and monitor their social media feeds. When you're not receiving money for your expertise, it's vital to pre-qualify even more thoroughly than you would with other clientele.
Assess the true value of the trade. Are your services timeless, while theirs are impulsive? With their service build your business and have lasting power, like a website or blog design will? Will your graphic design services outweigh the cost of the print materials they provide for you? Consider the true value of the items being bartered, and don't be afraid to negotiate.
Get it in writing. Make sure a contract is signed before any work begins, and outline the details of the agreement.
Treat it like money. If you've done the above, the person or company you're dealing with also has a valuable service or product they are providing you with. Treat their end of the bargain just like you would any other project, and provide them the same caliber of service you would a paying customer.
Don't:
Do it solely to build your portfolio. There are several other options such as non-profit organizations, friends, and your personal projects that can help you build a portfolio without the need to barter.
Consider it "Spec-Work".  Spec-work is heavily frowned upon in the design world, and is usually considered work that several designers compete for and only a single "winner" is compensated.  The link provided sheds more light on the details of spec-work, but it's important to note that bartering is NOT spec-work.  Entering into an agreement with no guarantee of payment is definitely discouraged.  When entering into a barter, there should be clear non-monetary compensation outlined so that each party is compensated properly.
Underestimate your value. A few hours worth of building a blog or website may be a breeze for someone who is an expert on the topic, but for others this service saved them months of learning, troubleshooting, and sub-par design. Everyone has their specialty, and when considering a trade agreement all these factors must be taken into account.  Think about the materials used, as well as the time that could have been spent on a project you were paid for.  Everyone has their strengths, and trading strengths across different fields is a great way to build your business.
Forget taxes. The barters you receive may need to be claimed on your taxes, and you may also be able to claim portions of what you provide. There are very specific details to consider, so be sure to either notify your tax preparer or research using your tax preparation software.
Downplay the barter. If done properly, a barter can be FAR more valuable than any money you would have received for your service. If you can follow the guidelines and seek the proper compensation, many trade agreements can easily be the best option overall.
Hopefully these tips have given you some food for thought!  Whether you're a designer, blogger, or business owner – bartering can be an incredibly lucrative venture when pursued correctly!