July 27, 2010 By The Blog Designer Network
Guest post by Dawn Farias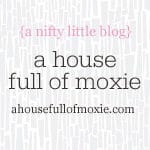 Today's Beautiful Blog is A House Full of Moxie, "a blog about being a small business owner, mom, wife and all around crafty kind of chick". That crafty chick is Lisa Bacon, founder of Moxie Pear, a graphic and web design boutique.
What I love about the design:
But there's also:
A prominent and succinct "about me" spot right in the upper right of the sidebar.
A tagline that lets you know immediately what's going on at this blog.
Perfectly coordinated, but not overwhelming, graphic details for labels, comments, social media, post series, and tweeting individual posts.
Lisa has paid attention to every small detail while still keeping her space clean and simple.  Go check out her blog, A House Full of Moxie, for tips on crafting, business ownership, cooking, indie shopping and photography.
Congratulations, Lisa, on having such a beautiful blog! Here is a button if you'd like to share this feature with your readers. —————————————————————————-
You can find more from Dawn Farias at her site A Bit Bloggish – a place with digital scrapbooking kits, tutorials and tidbits on daily life.  Feel free to follow her on Twitter, too!