February 22, 2010 By The Blog Designer Network
Guest post by Marianne from Songbird
For this weeks Beautiful Blog feature we are guests at Chez Larsson, in Sweden. Benita is in her own words "a neat freak, an organizing enthusiast and someone who truly enjoys getting her hands dirty". On her beautiful blog she shares many organizing and decorating tricks and proves that she and her husband and son are real DIY professionals.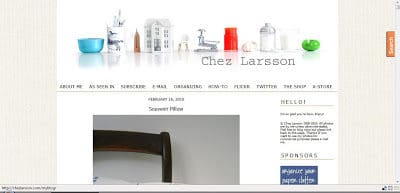 What I love about Chez Larsson:
Uncluttered and easy to navigate design
Lovely banner picture that communicates the content of the blog very well
Easy to read posts with beautiful big photograps
Helpful navigational bar with all the right links
Cleverly positioned Search tool
The blog design is a clear reflection of the Larsson's personal style
At the Larsson's (that is what Chez Larsson means) you will see a family who loves DIY and crafts and who run the most organized and uncluttered house I have ever seen. Benita always makes me want to go clean up my house (and to get me to want to do that is a miracle). I love how their homemade blog design, is a true reflection of their lifestyle. Go check out their Beautiful Blog Design and have fun looking at all the amazing DIY projects they have done and benefit from all the fun and easy organizing tips. And tell them we sent you.
Benita, you have a beautiful blog and beautiful followers who love you! If you would like to share this feature with your readers, here is a button for a post or sidebar.