April 19, 2010 By The Blog Designer Network
This week's Beautiful Blog feature is a WordPress.org blog called GoodNCrazy.The owner, Carissa, is an amazing woman -in her life prior to motherhood and blogging, she was a molecular biologist (WOW!) but now enjoys writing at GoodNCrazy about her family, photography, parenting, food and more.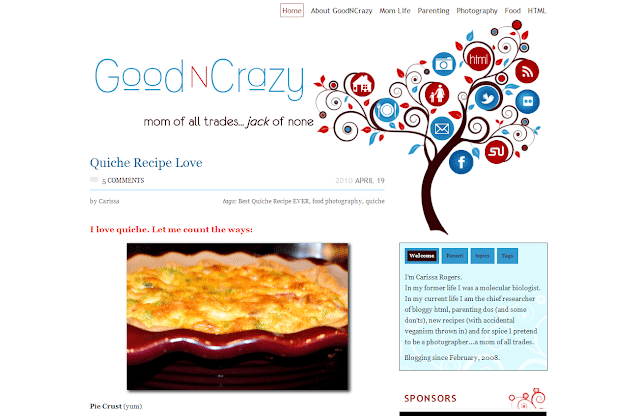 What I love about GoodNCrazy:
Amazing, unique header! Love the navigation buttons built right into it.
Very user friendly with a navigation menu above the header and categories in the sidebar.
Clean, uncluttered sidebars.
Engaging, informative About page (too many bloggers don't have this and it is important).
Lots of white space which is easy on the reader's eyes.
Great content, which is broken into bite size paragraphs with pictures to keep readers engaged.
Dappled Studios is the design team who created this brilliant design for Carissa. They are certainly very talented and their work is exceptional.
Congratulations, Carissa, for having such a beautiful blog! If you'd like to share this feature with your readers, here is a button for a post or sidebar.