February 16, 2011 By Cheryl
When I first started blogging, I never expected to make money with it.  I just love sharing what I know and love and blogging was the perfect platform.  As my blog grew, it became more time consuming and I started to hear about ways you could make some money while blogging.  Do what I love AND make a little money too? Why not!
Who wouldn't like to earn money blogging?
There are numerous ways to make money blogging, and I'll be the first to tell you, for most of us, it's NOT going to make you rich but it can make it worth your while.  The first thing you should know, you don't want to put all your eggs in one basket!! Some of the things I do are join ad networks, sell ad spots on my blog,  use affiliate links, join marketing sites, I even earn money searching the web!
Today I'd like to share a few simple sites that help me earn money while I'm online and blogging.

SocialSpark acts as a "middle man" between bloggers and advertisers.  If a company wants to get the word out about a new product, they contact SocialSpark, and SocialSpark contacts me, if they think we may be a good match.  It's then up to ME to decide if I want to accept the offer and write about the company/product (sponsored post).
Once you sign up with SocialSpark, and you blog is approved (*see requirements below)
YOU set your own rate
YOU choose what you write about
YOU choose what companies to work with
once your post has been approved, you receive payment via paypal in 30 days
you can choose to skip auto publish – you don't have to give them access to your blog
Right now SocialSpark is running a referral promotion, to grow their publisher base.  Once your blog is approved you will have the chance to win a trip to Hawaii by referring all of your blogging friends.
Sign Up Here!!
*SocialSpark requires that you claim your blog (you will be give a code to install on your blog, they check to see if it's there, then you can remove it – just shows that YOU have ownership).  Your blog must be more than 90 days old, at least 20 posts made in the last 90 days, original content, be in English or Spanish.

Swagbucks.…….oh how I love thee!
One question. Do you search when your on the web?  Did you know you could be earning cool stuff while you do search? I know, I know, you're probably thinking what's the catch?  But there isn't one!
What is Swagbucks? Swagbucks is a search engine that rewards you with digital dollars (Swagbucks) for searching. You can redeem your Swagbucks for Amazon, Target and Starbucks giftcard , music downloads, and tons of other cool stuff. The search engine is powered by Google, so you get good results. You'll never have to pay shipping and you don't have to buy anything to win. You can easily join (for free) and start earning your own Swagbucks today!
I've been using Swagbuck for all my searching needs for a year now.  I like to "purchase" Amazon gift cards with my Swagbucks (because you can buy almost anything on Amazon right?)  and I occasionally "buy"  iTunes gift cards.
With those Amazon gift cards I have "bought"

KitchenAid Mixer for 1/2 price (because I was too impatient to wait to save up more)
FREE Kindle 3G
FREE Christmas Gifts (I had about $400 in Amazon gift cards to spend at Christmas)
I'm currently very close to enough Amazon dollars to purchase a new camera lens!!
It's so simple, you just sign up, install the Swagbucks Search bar and use it to search the web!  While you do that, you earn Swagbucks.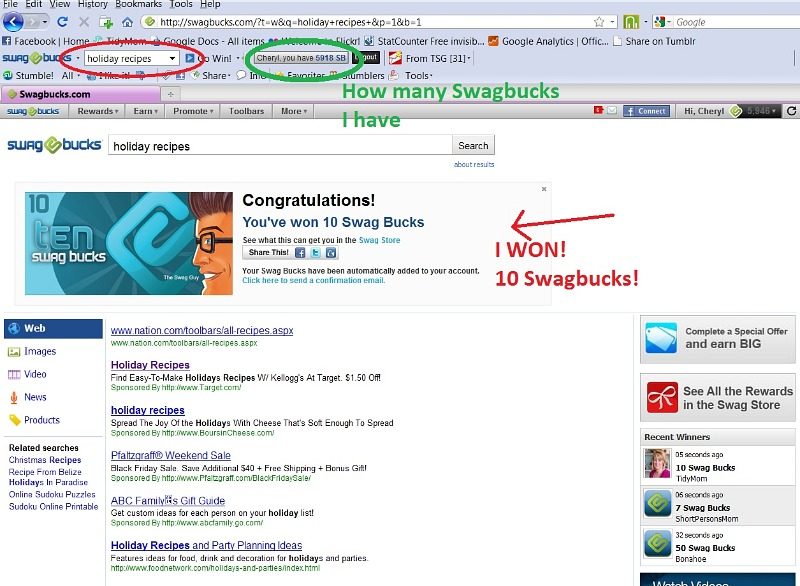 click here to view my screen shot larger
I just go about my business online, and I use the Swagbucks tool bar anytime I need to search something.  It's as easy as that!
You can also earn Swagbucks by, shopping online, trading in phones and video games, referring a friend, answering surveys and much more!
It's definitely not a FAST way to earn, but if you stick with it, I promise it will pay off in the end!!
Sign Up Here!!