January 18, 2011 By BDN Administrator
Hi, everyone!  I've collected a few links and tips for you Blogger users.  Hope you find some of them to be helpful.
1. Add a horizontal drop down menu in Blogger.
2. How to widen the new Blogger templates greater than 1000px from Dawn by Design
I worked with a food blogger recently that needed plenty of room for the food photos she spends so much time crafting. I was setting her up with Blogger's new Simple template which allows you a maximum width of 1000px from the template designer. I found an area of code where you can define a width larger than 1000px.
*I don't at this time have tips for this in templates other than the Simple one.
3. Complete SEO guide for Blogger templates from MagzNetwork Solution
Lots of people are switching from Blogger to WordPress lately. One of the things bloggers love about WordPress is the SEO optimization. It is easy to add "behind the scenes" meta data to each post or page in WordPress. Blogger? Not so much. Actually, not at all! This link will show you a little bit that you CAN do to help things along.
4. Forcing text to go underneath your photo.
There are times when I don't want my blog post text to wrap around my inserted image, which is the default alignment in Blogger. I went and found an easy way to force the text to start beneath your photo.
First, you'll want to successfully upload an image into your post editor. Second, if you are not already in the HTML mode, then switch over to it. All of the code in the image below is just for a photo. You'll want to copy the parts in red and paste them below the photo's code.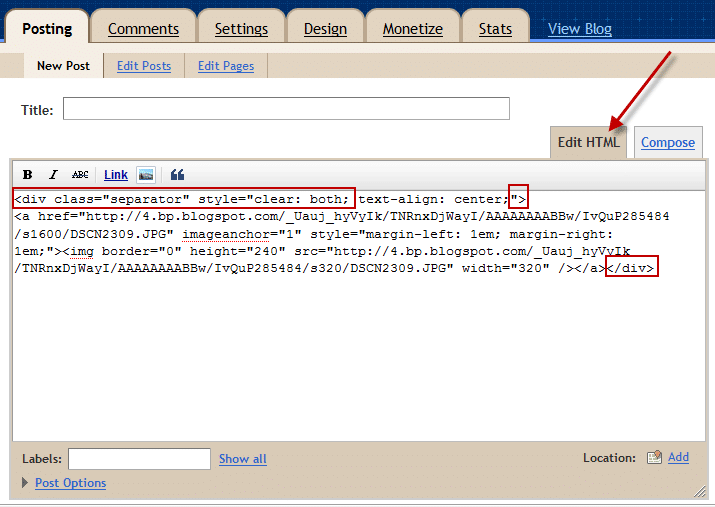 Your final code will look like this:

5.  Designer Blogs has a tutorial for uploading larger images in Blogger that is helpful for those times the default Blogger sizes are not serving your needs very well.