February 11, 2010 By BDN Administrator
This is a series that I have been talking about doing for at least six months but am just now getting my act together, and, as it turns out, it's not all that together. Not making sense, am I? Well, what I mean is that our first Before & After feature doesn't have an "Before" shot, just the "After." Oh well, moving forward.
The blog that I'm featuring today, Lady Luck's Abode, has just had a beautiful new redesign by 7M Designs, which she won here at BBD. I failed to ask the owner, Summer, to get a "before" screen print, thus we don't have one. But, imagine a blog that was no where near as fun and delightful as the design she sports now.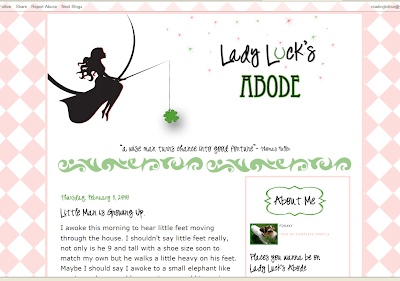 Here is what Summer thought of it:
"I absolutely love it!!  … It's perfect. The header is amazing and I love the horseshoe in the work "luck".  I couldn't have asked for anything more. Its wicked. Nice touch with the quote on the bottom of header too!  Kim has made me so happy.  I really appreciate all the work she put into this and all the patience she showed me.  Wonderful !!" – Summer
During the fall I promised several ladies that I would feature their blogs on the Before & After series, but then didn't have the time to make it happen. I apologize to you and if you are one of those ladies, please re-email me your sites and I'll link to them in my next feature.


If you are soon to have a redesign, either by a blog designer or by yourself (there are a lot of talented do-it-yourself bloggers), and you'd like for me to share your before and after looks here at BBD please do the following:
Make a screen print of your current blog template
Make a screen print of your new design template
Email me and include both screen prints and your designer's site address