October 28, 2010 By Cheryl
There is one question I get asked on my blog time and time again …….
"How do you make those cute picture collages on your blog?"….."What do you use to edit your pictures?"……."How do you get words on your pictures?"….."How do you watermark your pictures?"….."How do you get those cute frames around your pictures?"
Do you see a pattern here?  Everyone  wants great pictures on their blog.  You don't have to have photoshop or some other photo editing program to get great pictures on your blog.
Picnik.com is a FREE photo editing site that is so easy to use and full of great options.  I used the free version for a few months and loved it SO much I signed up for the premium membership a year and a half ago, which is only $25 a year, and WELL worth it, in my opinion.
I thought today I would share a few Picnik "basics" with you all….then if you have questions or want to know more, just leave a comment and I'll answer what I can in the comments, or let me know if you'd like to see a post on something specific.
I upload pictures to Picnik straight from my camera, but you can get them from your computer, photobucket, flickr, facebook….numerous other places where you may have pictures stored.  Then once you edit them, you can save them to any of those locations. *Picnik is NOT an online storage for photos.
The first thing I do with every picture in the Edit tab click "Auto Fix" – if I don't like the way that looks, then I go to "Exposure" and auto fix.
(click screen shot to see more detail)
Auto Fix Screen Shot
From there I go to "Colors" and pick "Neutral Picker" and click the dropper on something white. If there is nothing white in my picture I try the auto fix, but I usually don't like that, so I will play with the slider until the color looks right to me (it's not usually that far off because I REALLY try and set my white balance when I take pictures.)
From there I crop my picture if it needs it.
After that – just play! Don't be afraid to try settings and ADJUST them, I rarely ever choose an edit that I use with just one click – I will fade it or something. TRY lots of things, you can always UNDO.
For this post, let's just cover  Frames and Collages – don't be afraid to adjust colors and sizes, even on the frames. I use the frame boarder the most. Where it says "outer color" click that black box- see all of the colors you can change to!
(click the screen shot to see detail)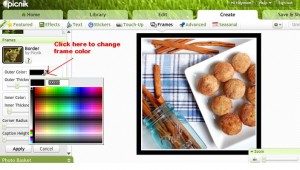 Frame color screen shot
you can even get a dropper and pick a color from your picture. You can do the same with the "inner color" as well as, adjust the thickness of your frame. Choose "Caption Height" and adjust the size and this will give you the box below your picture, where I add text, like in my Sweetheart Cherry Cake picture here.
To make a collage –
Halloween Cookie Collage
Go to Home, choose Collage
At the bottom left you will see you can choose where you want to get pictures from that you want to put in your collage.
(click screen shot to see more detail)
Picnik Collage Screen Shot
Choose the layout you want. You can adjust the spacing and other things….. I almost ALWAYS change the color! – You will see a black box next to "spacing"
click that black box and you can choose any color you wish for your collage back ground color. (I usually choose white – but I sometimes pick a color like I did here.) After you make your collage you can go to frames and add even more detail….. this post has a great example of a few collages and a picture with round corners (you do that in frames).
You can add text to any of your pictures, frames or collages.
Text on picture
Simply click the Create tab, then Text.  Choose a font and type your text in the box and it will show up on your picture, you can then drag it around and place it where you want.
To watermark your picture(s)……Add Text (I usually do white or black) and then fade, I usually fade close to 80%.
Watermark Pictures
It's all THAT easy!!
Just play around……don't be afraid to try things!
I'd be happy to answer any questions in the comments section and let me know what other Picnik posts you'd like to see
I'd love for you to visit me in my little corner of the blogsphere at TidyMom.net