November 1, 2010 By The Blog Designer Network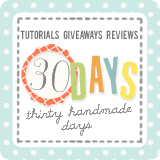 This week's Beautiful Blog Design feature goes to 30 Handmade Days, a Blogger site run by Mique. 30 Handmade Days is dedicated to all things handmade, through tutorials, giveaways and features.
What I love about 30 Days Handmade's blog:
Pleasing, easy-on-the-eyes color scheme.
Simple but niche-related design* that hits the spot perfectly!
Navbar that helps readers navigate the blog easier.
Tidy, uncluttered side bars.
Font in post area that is easy to read.
Content in posting area is broken into bite-size chunks.
Sweet About page to readers can connect with the Mique.
Icons for social media and email are at the top and easy to find.
*The talented designer behind Mique's lovely design is Sharon at Redbud Designs.
I recently met Mique online and I want to say that she is as sweet and sincere as her blog and design are, a perfect combination! No wonder she has so many wonderful blog friends and followers!
If you appreciate handmade crafts or make them yourself, I highly recommend heading over the 30 Handmade Days, view the beautiful blog design and enjoy browsing through the giveaways and tutorials she has available.