May 10, 2010 By The Blog Designer Network
Today's Beautiful Blog is My Two Seasons, a self-hosted WordPress blog run by Michelle Johnson. My Two Seasons is a place for Michelle to share her love of photography, nature and family. Her photography is beautiful and inspiring, and I find myself drawn back there time and again.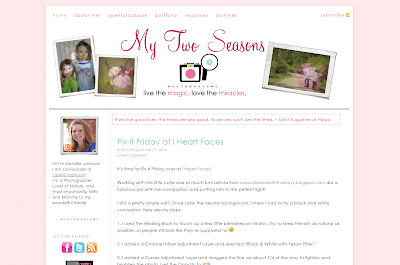 The design for My Two Seasons was recently created by Michelle herself and I think it is just fantastic!
What I love about the design:
Clean and simple design, with plenty of white space
Tidy, well organized sidebar
User friendly navbar at the top of the blog
Simple, but very tasteful header with rotating pictures
Soothing color scheme
Great content!
If you have some time to blog hop today, I highly recommend popping over to My Two Seasons. You'll find yourself staying longer than you thought you would!
Congratulations, Michelle, on having such a beautiful blog! If you'd like to share this feature with your readers, here is a button for your sidebar or a blog post.

If you'd like to see all the past Beautiful Blog Series features, simply click on Beautiful Blog Series in the Categories section in the sidebar.
p.s. Don't forget about the giveaway going on right now. Two budget blog makeovers by Adori Graphics; to enter click here.